This week is the Korn Ferry Tour Finals. I was fortunate enough to spend a few days at Orange County National this week, fine tuning and prepping one of my students, Nick Hardy. Nick and I have worked together since he was 9, and I couldn't be more excited for what lies ahead.
There are so many talented players in the field and the scores will be low. OCN is a 36 hole big boy facility! Fairways are wide, greens are massive (and rolling perfect), and the courses play over 7200. Each player will play both courses twice as there is no cut. It was interesting walking practice rounds on huge greens trying to determine where 2 pin locations would be. So many options….
All of the players in field will have some status on the Korn Ferry Tour in 2020 but they are playing this week for so much more. If you finish top 40, you gain status into the first 8 events, which if you make a few cuts should keep you in the mix the remainder of the season after a re-shuffle. If you finish 2nd-10th, you are in the first 12 events. If you win tour school finals, your exempt all year which is the ultimate goal for 154 players this week.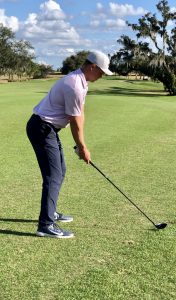 As with every event Nick plays in, the goal is to play solid golf start to finish, par is 68 and try and shoot that every time you tee it up. Assuming par is 72, 16 under should be good enough for top 10 this week but it might take 20-21 under to win.
Cant wait, should be an awesome week for Nick, myself, and many others.